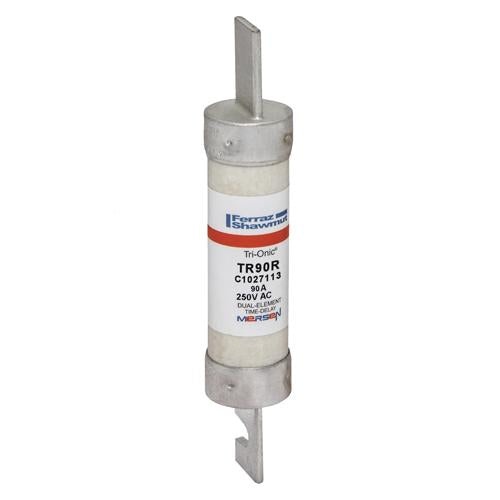 Mersen Class RK5 Fuse, 90 Amp, 250V, Ferraz Shawmut TR90R, TR90A, Tri-Onic Low Voltage Fuse.
by Mersen
250V 90A 5 7/8x11/16 RK5

Fuse Tri-Onic® 250V 90A Time-Delay Class RK5 TR Series  

UL listed to standard 248-12 File E2137
CSA certified to standard C22.2 no. 248.12
DC listed to UL standard 248 TRS only

Tri-Onic TR-R current-limiting time-delay fuses are engineered for overcurrent protection of motors, transformers, service entrance equipment, feeders and branch-circuits. The time-delay characteristics of the TR-R safely handle harmless starting currents and inrush currents associated with today's motors and transformers.

Ideal for Motor Circuits, Mains, Feeders, Brand Circuits, Transformers, Service Entrance Equipment, General-Purpose Equipment.